A Complete Guide to UPI Payment Soundbox: What it Can Offer your Business?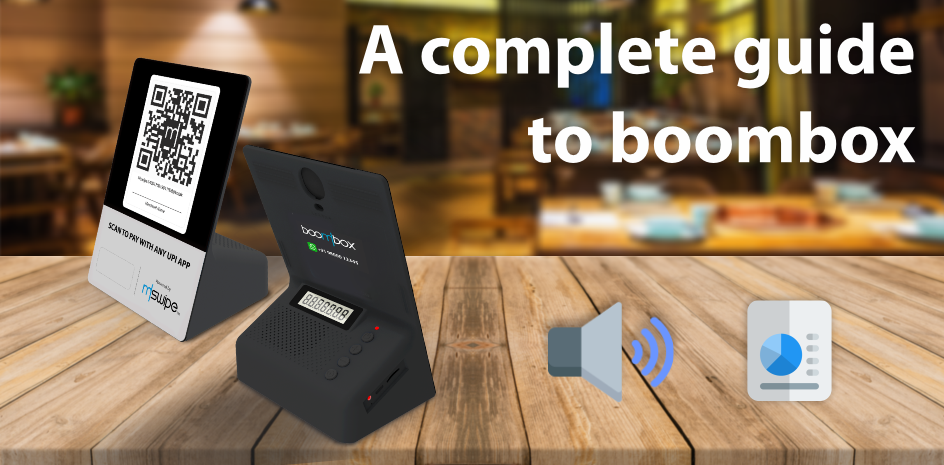 Looking to simplify and streamline your daily business? Whether you are a retail merchant or have a wholesale business, it is essential that you offer your customers a memorable experience with a simplified service.
Customers looking to purchase something from you also expect a seamless payment experience. However, as a business owner or retail merchant, you might be struggling to confirm the online payments received while attending to customers standing in the queue. On the other hand, it's quite awkward and embarrassing for you and the customers to ask for the payment receipt and confirm the payment made via an online payment platform, respectively. So what can you do to escape this embarrassment and upgrade your business?
Here comes the Mswipe UPI Payment Soundbox in the picture!
The UPI Payment Soundbox is not just a QR code scanner that enables people to scan and pay seamlessly, but also provides a voice payment confirmation sound Box that ensures you don't miss even a single payment received.
What Can It Offer?
Mswipe UPI Payments Sound Box has multiple benefits and features to offer. One can leverage UPI Soundbox to upgrade their business. Let's see what it can offer you.
1. Instant Sound Alerts
While you are busy attending to other customers in the queue, you might not get the time to check online payment received which can also lead to fraud. Hence, the UPI Payments Sound Box renders Instant Sound Alert as you receive payment saving you time.
2. Display Amount
Along with Instant Sound Alert, one can also verify the amount received with its display feature. The UPI Sound Box saves you time and effort to check mobile banking to confirm payment received. While other customers are waiting in the queue, you can simply check the display and save your and your customers' time.
3. Dual-Language Feature
Whether you understand English or Hindi, the UPI Payment Soundbox can be easily switched to different languages making sound alerts simpler for you to understand.
4. Accepts Any UPI App
The UPI Payment Soundbox scan is easily readable by any UPI payments app ensuring that you do not miss out on any customer. This is a great way to offer your customers an excellent shopping experience.
5. 4G Micro SIM Connectivity
The UPI Sound Box can easily connect to your 4G micro SIM. There's no need for WiFi or data connection. All you need is a 4G Micro SIM and your device is ready to receive payments.
6. Burst the Queue
The UPI Sound Box Scan can be connected to several UPI ids enabling you to receive payments in different bank accounts with a single QR code. There is no need to keep multiple QR codes for different UPI ids.
7. Great Battery Backup
Mswipe' Payment Boombox comes with a maximum of 10-hours of battery backup, eliminating the tension of charging it repeatedly. The boombox also works while charging ensuring there is no gap in your business.
8. Transaction Notification
While updating your accounts for the day, the UPI payment boombox ensures you can seamlessly access the last 10 transactions made on the QR code.
Instant Installation Process
Mswipe UPI Payment Boombox comes with a quick and simple installation process.
Step 1: On your Mswipe merchant application, apply for the Payment QR code and boombox.
Step 2: The boombox you receive will be connected to your account and will not require you to connect to your account.
Step 3: Long press the power button to switch on the boombox, and check the charging.
Step 4: Connect the boombox with your 4G Micro SIM, data or WiFi.
Step 5: Once connected, your UPI payment soundbox is ready to use.
How Does It Work?
The Mswipe UPI Payment Soundbox has a very simple process for receiving payments. Let's see it in action below-
| | | | |
| --- | --- | --- | --- |
| Customers scan the QR code from the UPI Payment Soundbox | Customers complete the payment via any UPI application | Retailer/merchant gets an audio and visual payment confirmation instantly | Hassle-free payment is done. |
Now you don't have to miss another payment with the UPI Payment Soundbox. While you are busy attending to other customers in the queue, you can simply listen to instant audio payment confirmation getting the assurance of no fraud.
With the Mswipe UPI Payment Soundbox by your side, you never miss a payment anymore. Its features like audio payment alerts, display notifications, last 10 transaction details, etc are perfect to streamline your business. Get your UPI Payment Soundbox to simplify your business with Mswipe.