Moneyback Card
Pay and Earn, at the same time!
Save on all your spends with 1% Cashback on Mswipe's Money-back card!


Securely pay anywhere, anytime
Insert or Swipe your EMV chip and pin card at online stores & websites anywhere in India

Avail a host of offers
Access to exclusive in-app offers with zero annual fees

Easy to use
Change your PIN, block card & analyse your spend patterns with our inbuilt spend analytics via our app
Apply now
Accepted absolutely anywhere
Earn Cash back every time you use your Mswipe MoneyBack card for all your purchases both online and offline.
Cashback amount will be credited to your card balance once a month, so you always have more money in your account every time you spend.
Apply now


Manage your card and track spends through the Mswipe Merchant App on your Smartphone

Top up your Mswipe MoneyBack Card via your Mswipe settlement amount

In-app feature to analyze your spends

Check your card balance,Cash back earned and more

All-in-one transaction history

A card you can use for all your purchases!
Use the Mswipe MoneyBack Card for your spends both online and at the local shop of your choice.

Get Cashback in your Mswipe account for all your purchases.
Apply now
*exclusively for retail merchants



emi
TM
cards : Pre-approved credit
Enjoy pre-approved credit for all your purchases at any Mswipe merchant. Pay back in easy instalments with low interest rates.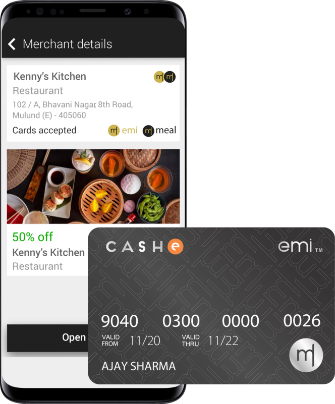 Pre-approved credit limit, for every kind of expense, both planned and unplanned

Avail offers on a wide range of goods and pay back in easy loan instalments for all your purchases

Free lifetime membership No annual or additional charges

NBFC EMI card is especially handy when you need access to credit the most
Accepted at over 500,000 Mswipe terminals in 700+ cities in India
Shop at your favorite stores, dine out, travel and stay at exotic locations or cover emergency expenses. Buy online and pay in easy instalments with Mcards on major online shopping sites.
Meet your financial needs with ease

Your card is linked to a credit limit provided by one of our partners. Make a purchase and pay in easy loan instalments.
Apply now



Handpicked offers and exclusive discounts
Discover the best offers and discounts on products and services across retail, dining, electronics, consumer appliances, health & wellness, travel and much more exclusively for Mcards members.
In-app Mcards account management
With the Mcards app, monitor monthly spends and instalments, view statements and account details. You can easily keep track of your cards, manage multiple card PINs and even block lost cards!
Frequently asked questions