5 Ways Your Business Can Benefit from Mswipe mPOS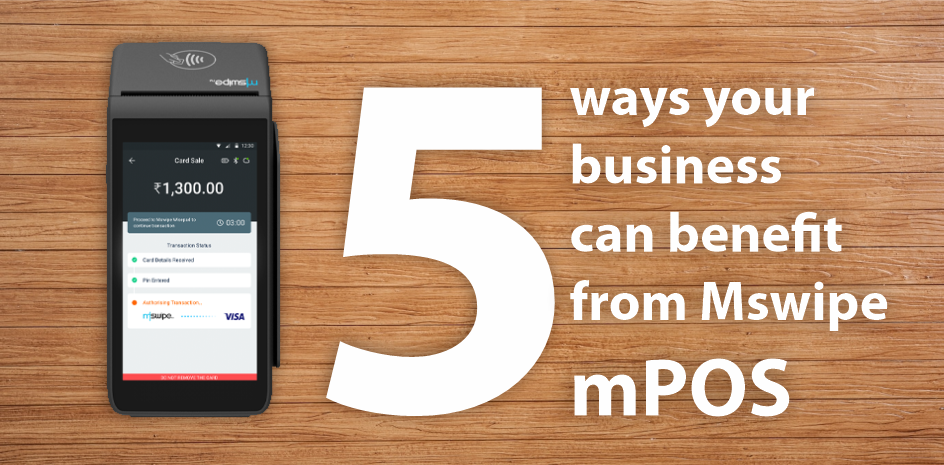 The Mswipe mPOS machine is a mobile point-of-sale machine that acts like an electronic point-of-sale terminal or a cash register. A wireless sales solution for businesses who are looking to take their transactions on the go.
Whether you are a market vendor, or retailer or your work requires you to interact with your customers out of your firm's geographical area, the mPOS machine will help you not only complete your transactions but also create a sales electronic register that will eventually aid you in building your accounts book.
There are many other benefits of mPOS machines than you can think of. Let's walk through these benefits to understand their relevance to your business.
mPOS Machine and Its Benefits
1. Versatile and Portable
Compared to traditional POS systems, mPOS machines are versatile and portable which is a boon for businesses that are on the go. Restaurants, supermarkets, apparel stores, jewellers, salons, etc find mPOS machines suitable for their business for dealing in payments securely.
Mswipe POS machine understands the requirements of merchants and offers various solutions in a bundle like payments, billings, transaction statements, etc. Hence, you don't have to worry about installing or investing additional costs in sales and billing systems.
As a business owner, you will be able to save a lot of time accounting the day-to-day transactions through mPOS machines, they are a perfect solution for you.
2. Ensures Optimised Customer Experience
Whenever you order something from online shopping portals like Amazon or Flipkart, you choose the cash-on-delivery option, you expect the salesman to carry a card swipe machine to fulfil the transaction.
Imagine your customers expecting your delivery executive to carry a transaction machine for home delivery or a cash-on-delivery system. It's not always possible for customers to have the exact cash with them, hence, a portable transaction machine becomes a good way to offer your customers a flexible payment option. This enhances your customers' payment experience and ensures they remember you for the same.
MPOS machines help enhance your customers' shopping experience and allow you to retain them for the future.
3. Cost-effective Electronic Register
Mswipe mPOS machine is a great device to record all your transactions for future accounting details. Even if your customers are making payments on the mPOS machine and you are not making an everyday record of it, you don't need to fret as the machine acts as a bookkeeper for your business that ensures all your transactions along with details are saved.
It is one of the most essential benefits of the mPOS machine that enables you to focus on your business and marketing plans while all your transactions are automatically stored for future records. Just download the merchant app if you are an existing merchant and once you sign in you will be able to get all your transaction reports in one place.
4. Printing On the Go
Carrying a receipt book, everywhere your delivery or service executive visits is cumbersome. It's obvious that it's not a viable option, and hence, the printing on the go option was built in. Most Mswipe mPOS machines have an inbuilt printer that can print receipts instantly.
So whether the customer swipes a card, taps the debit or credit card or scans the QR code, the mPOS machine can simply print a receipt for the customer's record. It's simple and saves your executive the effort of carrying a receipt book on the go.
5. Deployed During Rush & Heavy Traffic Hours
During the heavy traffic or rush hour in your store, exhibition, sales event or on the road for traffic Police, mPOS machines can be deployed to ensure consistent sales record keeping and capitalise immediate customers' excitement.
If your customer is interested in a pack of products that are readily available, your customers need not wait. All they have to do is swipe their card or scan the QR code to make the payment at that moment and they are good to go. While they get an express streamlined payment service, your transaction is recorded and you get a chance to capitalise on their interests.
Mswipe offers mPOS machines to help businesses to streamline their transaction service. They offer a range of mPOS machines - Wisepad and Wisepos. The range of Wisepad machines offers features like SMS notifications, inbuilt print, Bluetooth and WiFi connectivity and are portable, the Wisepos machines are more advanced and apt for today's requirements.
The Wisepos machines are Android products that can also be used as mobile phones. They can be connected with Bluetooth, WiFi, a Sim card and a data network. In addition to that, the range incorporates an inbuilt printer and a camera for clicking photos of receipts and scanning QR codes.
Mswipe's mPOS machines not only streamline your transactions but also ensure your customers get a memorable experience when it comes to making payments while purchasing their lovable products.